LA MATESINA
INTERNATIONAL COMPETITION FOR LONGDISTACE RUNNING - I.A.A.F.
BOJANO - ITALY
24 AUGUST 1996 - h 20.00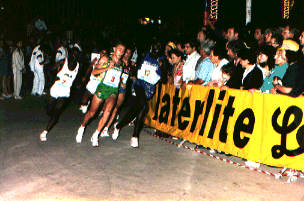 ---
In Bojano a small town in Molise at the foot of Matese, since 18 years ago people run "La Matesina" international competition for longdistance running. The competition is the classic 10 000 meters, that takes place in 20 turns round the streets of the city. The competition is at the end of the mounth of august when there is a lot of celebrations in honour of the saint protector of the city. During this period a lot of italians nowadays habitants abroad in for example Canada, USA, Australia and South America returns. Bojano has a twintown in Falmouth in Massachusets where they every year organize a competition like in Bojano, and the change of experience has made the event more interesting. Just before the main competition there is the race for the yuongest that since one year ago , thanks to the protection of Unicef now also represant a message of peace and friendship between young people around the world. The list of the winners brings us the name of some of the most important runners in the world and shows the growing success of the organization.
| | |
| --- | --- |
| 1978 D'AURIA (FIAT IVECO TO) | 1987 THACKEY (ENGLAND) |
| 1979 ZARCONE (CUS PALERMO) | 1988 RHONO (KENYA) |
| 1980 CINA' (CUS PALERMO) | 1989 KORIR (KENYA) |
| 1981 GERBI (CUS TURIN) | 1990 BARRIOS (MEXICO) |
| 1982 KOROSO (KENYA) | 1991 BORDIN (PAF VERONA) |
| 1983 MASONG (KENYA) | 1992 BARRIOS (MEXICO) |
| 1984 KOSKEY (KENYA) | 1993 BARRIOS (MEXICO) |
| 1985 MAMEDE (PORTUGAL) | 1994 TERGAT (KENYA) |
| 1986 KIPKOECH (KENYA) | 1995 BALDINI (CORRADINI RUBIERA) |
For more information contact:

Last Updated 27-May-96 jakoumb@moldat.molisedati.it Address: ATLETICA LECA BOJANO - Via Cavadini,79 - 86021 BOJANO (Campobasso) ITALY
Tel. 0874/773185 - 787540